GUEST INFORMATION GUIDE
Anti-Covid-19 measures recommended by WHO and Presidential Decrees:
social distancing of at least 1 meter (do not hug, kiss or shake hands)
hand hygiene: frequent and thorough cleaning with soap and water and sanitizing with gel
respiratory hygiene: avoid touching eyes, nose and mouth; sneeze into a handkerchief and throw it away
You are kindly requested to follow simple rules for a quality and safe holiday:
before arrival:
Online check-in for ease of processing
Compulsory reservation for services: breakfast, restaurant, spa, massage, gymnasium
for multiple bookings (groups, family members), the group leader is the only one intermediary

from the moment of your arrival at the hotel you will be required to:
use a mask in all common areas
to sanitize your hands with disinfectant gel
not to stand in the common areas and not to use the common bathrooms
stay at least 1 meter away from the other person
use the lift alone or only with your family members
book hotel services in advance, indicating times
in the rooms you will be asked to:
open the windows wide on your way out to allow the cleaning procedure to be carried out safety for the staff
you may not have your room cleaned in order to remain quiet (check/clean every 3 days)
non-guests will not be allowed to enter
>>>> You will have a secure facility and we allow you
possibility to measure your temperature at the entrance (optional)
free Wi-Fi with access to our internal portal with all the information about the hotel and the region
possibility of contacting us with the telephone in room n. 9
keys disinfected with uv-rays
CLEANING PROTOCOL
Dry steam cleaning at 165°, using virucidal disinfectants approved by the Ministry of Health:
Quaternary ammonium salts Registration Ministry of Health 18535 (D10)
70% alcohol
Sanitary Chlorine products
Disinfection of rooms with 0.5 - 3 % Hydrogen Peroxide spray.
every space, object and fabric will be treated and cleaned with dry steam at 165°C and virucidal products
detergents and disinfection with alcohol, quaternary ammonium salts and chlorine will be used
everything will be sanitized several times a day according to use with quaternary ammonium salts and hydrogen peroxide 0.5 - 3 %.
sheets and towels will be washed at high temperature with the addition of chlorine
the air conditioning grilles are sanitized with dry steam at 165°C and the filters disinfected in accordance with regulations
everything is ventilated by opening doors and windows
the staff at Hotel Posta sas has a green pass and is trained in all the procedures adopted, wears masks and washes or sanitizes his hands after each work.
RESTAURANT SERVICE and BREAKFAST at Le Clocher Bistrot by reservation only, check availability and opening hours
Breakfast 7.30-10.30 am Dinner 7-9 pm
sanitize your hands before entering and maintain a distance of at least 1 m
if not at a table, use the mask
WELLNESS CENTRE SERVICE FOR EXCLUSIVE USE access allowed with max. 37.4°C
Opening hours: daily from 08.00 to 21.00
All wellness facilities are currently for the exclusive use of a maximum of 1 to 4 people from the same family (anti-covid provisions).

obligation body temperature measurement with thermo scanner at the entrance
change in your room and get out in your swimming wear, bathrobe and slippers
do not bring anything: no food, drinks, bags, mobile phones, etc.
take a shower, soaping the whole body and then rinsing thoroughly and disinfecting the feet
sanitize your hands before entering and keep a safe distance.
SWIMMING POOL AND relax room : €60.00 1 hour entry (max. 4 people/hour in the same household) including bathrobe and slippers kit
WET ZONE and SWIMMING POOL: pool with hydromassage jets, relaxation room, sauna and steam bath
Wellness path 1 hour entry (1 to 4 guests of the same family) - 1 hour € 80.00
Romantic with a bottle of sparkling wine from 9.10 p.m. to 11 p.m.: 2 guests – 2 hours entry €100.00
MASSAGES at Bellatrix with advance reservation
take a shower in your room and use clean underwear/swim wear
come down with a bathrobe, slippers and a mask: do not bring anything (bags, mobile phones, etc.)
keep your mask on, keep a safe distance and sanitize your hands before entering
GYM: 8.00 am - 9.00 pm entry by reservation, maximum use of 1 hour with entry reserved for 1 guest at a time (or 1 family group of max 4 persons)
book by telephone and ask at reception for the key, which will be disinfected before and afterwards.
sanitize your hands with gel before use
request suitable clothing used only for this purpose
request to sanitize any equipment used (before and after) using D10 and disposable paper provided

MANAGEMENT OF EMERGENCIES
If the guest feels unwell and presents symptoms of a respiratory infection (dry cough, fever, sore throat, breathing difficulties), he/she must avoid contact with all guests and staff in the facility.
He must remain isolated in his room and immediately contact Reception on telephone number 9, ensuring adequate natural ventilation to the room. Reception will call for medical assistance.
Staff are trained to follow the procedures set out in the action plan.
At the end of the emergency decontamination will be carried out by a specialist company.
Book here, it's worth it!
Request info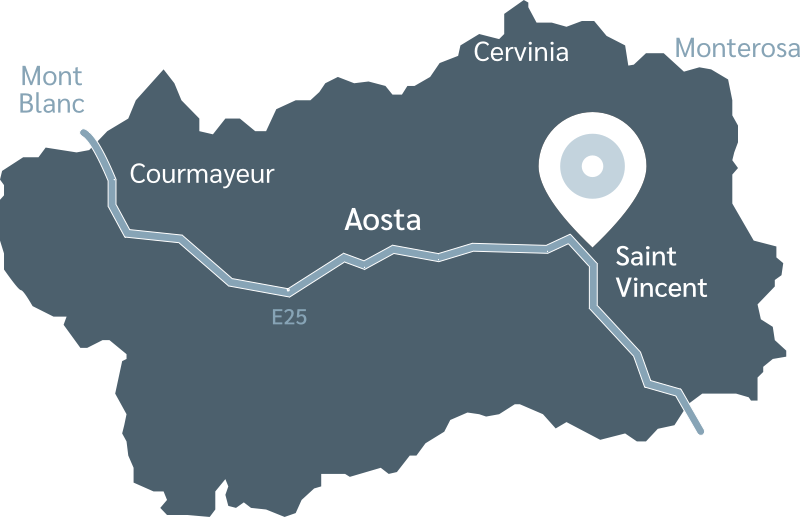 Piazza 28 Aprile,1 -11027- Saint Vincent (AO) - Italy

Telefono: +39 0166512250
E-mail: info@hotelpostavda.it
Fax: +39 0166537093