Viaggio alle origini della Valtournenche
Questo è un viaggio nel tempo, un viaggio per chi ama il fascino di vicende lontane che ancora oggi vivono nelle storie e nei saperi della nostra gente.Una settimana per immergerti, passo dopo passo, in un itinerario ricco di bellezza e di incontri, avolte inattesi, ...
Disponibile: Partenza 10 luglio 2023 (
7
notti) o 25 settembre 2023 (7 notti)
da 1247,00 € per persona
---
7 notti in camera doppia con trattamento BB
1 cena Gourmet
2 pranzi al sacco
2 visite guidate culturali (2 ore)
2 visite esperienziali ad aziende agricole con degustazione (2 ore)
2 laboratori esperienziali (3 ore)
2 escursioni naturalistiche (giornata intera)
1 ingresso alle terme
Tassa di soggiorno
I trasferimenti da e per il luogo di origine
I trasferimenti interni
Tutto quanto non espressamente indicato ne "L'offerta comprende"
Scegli i dettagli del tuo viaggio e inviare la richiesta, così da bloccare l'offerta a te riservata.
Servizio reso in collaborazione con il Consorzio turismo Saint-Vincent.
Alla conferma di prenotazione paghi solo il 50% e il saldo 15 giorni prima della partenza.


La prenotazione dev'essere effettuata almeno 15 giorni prima della data di partenza selezionata.
Il viaggio è confermato al raggiungimento di almeno 6 partecipanti.
Al fine di garantire la migliore esperienza il numero di partecipanti è limitato a 12 persone. Raggiunta tale quota non saranno accolte ulteriori adesioni.
Book here, it's worth it!
Request info
Mountain holiday offers tailor-made for you and your dreams.
Make every day unique and memorable, choose the proposal that suits you.

See all our offers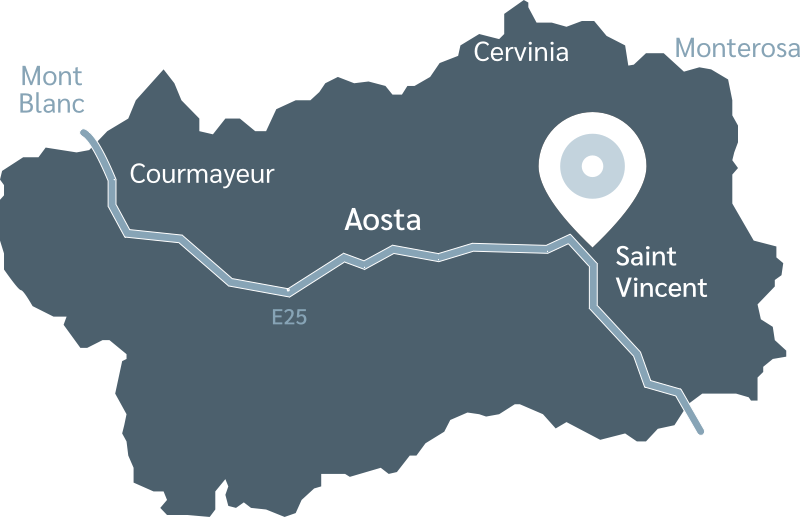 Piazza 28 Aprile,1 -11027- Saint Vincent (AO) - Italy

Telefono: +39 0166512250
E-mail: info@hotelpostavda.it
Fax: +39 0166537093